Hi guys. I'm so excited to write my first release post in such an extraordinary day because today marks our 1001 release~ Evil Flowers has been open for almost 3 years now (May 20 is our 3 years anniversary), and we have been releasing more than 1 chapter a day since we started, which means we're doing great~! (Except we're still understaffed, which we'll talk about later) We want to thank our admins for managing everything, staff for helping us scanlating this many chapters, donors for providing us money to buy raws, and fans for supporting us. Without you, we won't have stay active till this day.
I'm Cheesecake, one of the admins who helps out with staffing and many other things. Can you see where this conversation is going yet? Anyway, many people have dropped by our Chantango and asked when will xxx be released. Well, I don't know the answer to that question, but there are ways to make that answer "soon".
1. Leave a thoughtful comment. It takes me up to five hours to clean a chapter, but it only takes you a couple of minutes to write a comment to encourage our staff to work faster. Sounds like a good trade, huh?
2. Join us. Many of us started off as newbies. Even if you do not have experience, there are plenty of helpful guides that you can read, plus we have staff who can help you out. We're mainly recruiting for Japanese and Korean Translators, Editors (cleaners and/or typesetters), and Quality Checkers (require both proofreading and editing skills). Also, our Head Proofreader said we need 1 more godlike Proofreader.
Currently, we're in desperate need of:
1-2 Japanese/Chinese translator(s) and 1-2 editor(s) for Reimei no Arcana
1 cleaner for Keishichou Tokuhanka 007
1-2 Japanese translator(s) for Yamatonadeshiko Shichihenge (PGE)
1 Typesetter for Toshi Densetsu
1-2 Japanese translator(s) for Honey Bitter
1 cheerleader for Absolute Witch
Other projects that need staff are listed here.
3. If you can't do #2, then it's time for you to help us spread the word or kidnap anyone you know that can help us out. You do not want to see us try to kidnap someone, because it involves tackles and ropes.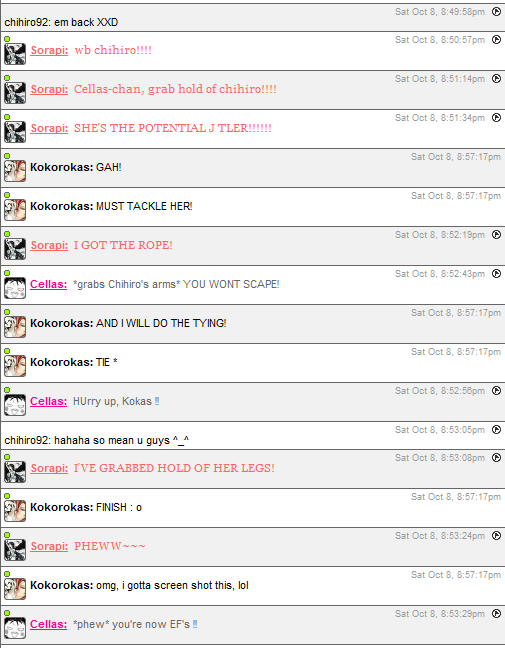 Join us before we hunt you down personally.
Enjoy the release~
- Absolute Witch v10 chapter 17A-17C + 18A
- Ciel v12 chapter 11F-11G + 12A
- Itsukasei Metsubou Syndrome v01 chapter 01G
- Non Non Biyori v01 chapter 07
- Saint Dragon Girl Miracle v04 chapter 17
- Toshi Densetsu v02 chapter 6A
Releases part 2:
- Absolute Witch v10 chapter 18B
- Dear Diary v03 chapters 12-14
- Kimi wa Kirakira v01 chapter 02
- Keishichou Tokuhanka 007 v05 chapter 13B
- Koakuma to Meromero Tengoku v01 chapter 04
- Reimei no Arcana v07 extra + v08 chapter 28 [If you want to see more from this one help us find a cleaner for this!]
Enjoy reading them!
Edit: We're sorry, but for now we have all the proofreaders we need, so the application thread is closed. We'll update this when we'll be needing more. Thank you.